Hi! If you're here, I assume you got lost, but just in case, here's some thoughts. 
The Firearms Radio Network was started and nurtured by Jake Challand a long time ago. His original goal was to have a place where outdoor podcasts could flourish. At the time, podcasts were mostly tech and pop-culture. He worked really hard and built something really special. Running a podcast network is hard work and after years and years, he wanted to focus on some other things, but didn't want to shut down the network. I can only assume he hit his head really hard and had some kind of TBI, but he called Shawn Herrin from We Like Shooting and discussed transferring ownership. 
At first Shawn said no no no. Then we can assume he also had some severe head trauma and decided to go along with it. Jake took one hour to dump everything in Shawn's lap and was never heard from again.
Shawn was able to figure everything out and set out to do a couple of things.
Make sure that the network remained special for the hosts and the listeners.
Bring new shows to the network.
Upgrade the technology and website.
Make posting easier.
Don't die.
Some of those things are done, but lots more is in the works. 
Thank you so much to the listeners for downloading all of these awesome podcasts and giving us a reason to hit that record button, year after year. 
-Shawn Herrin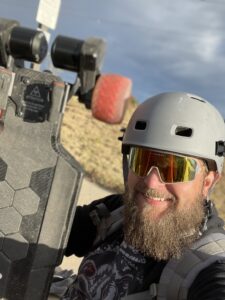 (this is the dumbest picture of me I had handy, feel free to make fun of me.)
I prefer dangerous freedom over peaceful slavery