Podcast: Play in new window | Download
Subscribe: Google Podcasts | RSS
In today's show we're going to be talking about setting yourself up for success in your long range rifle game by using a ballistic app.
In this context, by "long range" I mean 3-gun or action shooting long range with an intermediate cartridge, typically from an AR-15. Which is about 500-600 yards max. We're going to run through all the data you need to enter into a ballistic app to get your proper ballistic solution and where you should gather that data.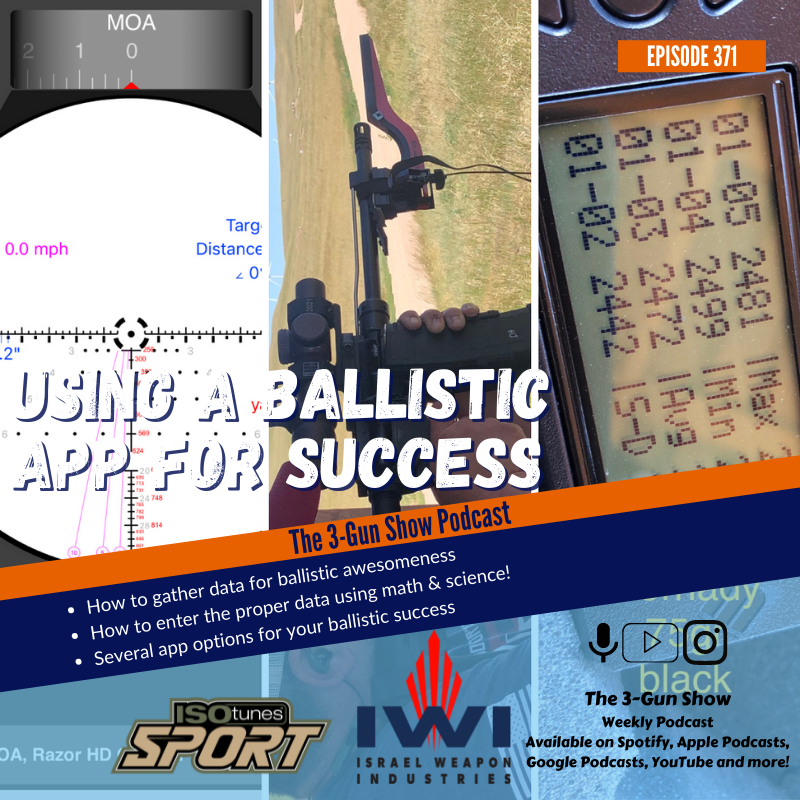 Important Links:
Don't forget to subscribe to the show in iTunes, Spotify or your favorite podcast app. If you enjoyed this show please share it with a friend, you can use the buttons at the left of the screen.
Sponsor Thanks
Thank you to our sponsors for making this podcast possible. Please support the people that support our shooting sports!
IWI US imports your favorite Israeli firearms as well as manufactures firearms right here in the USA. Known for their Tavor X95 bullpup, Jericho Pistol and Galil ACE rifle, IWI has added several modern options to their lineup in the last few years including the Zion Rifle & Pistol and the optics-ready Masada Pistol.
ISOtunes Sport is designed specifically for modern-day shooters looking for the next generation of hearing protection. Their sole goal is to provide premium, state-of-the-art hearing protection and communication technology to those who work and play in loud environments. Use code 3GUN15 at checkout to save 15%.